Marries Greek, Has Problem
(Chapter 181, part 1 of 2) Although Apries was both fighting Greeks and had them in his bodyguard, Amasis was well-disposed towards them. He made treaties of friendship and alliance with his western neighbors in Cyrene, and even took a wife from there. We are not certain of her paternity, but she was undoubtedly of good family, and her name was Ladica. When he took her to bed, he found to his extreme annoyance that he could not complete his duties, as he could with all the other women he had consorted with. He informed Ladica that she would meet a bad end if this kept up.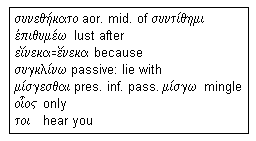 This is a relatively straightforward piece, and few comments are necessary. The vocabulary contains some words not usually met with in schools. The Greek itself is delicate, however, treating such intimate matters, but makes it clear what is going on.
Amasis concluded friendship and alliance with the Cyrenians. He thought it well to take a wife from there, whether because of desiring a Greek woman, or otherwise [cementing] friendship with the Cyrenians. He married one who some said was the daughter of Battus, others of Arcesilaus, still others of Critobulus, a worthy man of the city; her name was Ladica. When Amasis reclined with her, it happened he could not join, only of all the other women he resorted to. When this occurred repeatedly, Amasis said to Ladica mentioning the fact: "O woman, you have bewitched me, and I tell you there is not one way that you will not perish the most badly of all women."
---
Return to Pharaoh
Composed by J. B. Calvert
Last revised 10 July 1999