Welcome to
ASTROPHYSICAL THEORY
course notes (PHYS 2051/2/3 sequence)
Next course offerings [alternating years]:
*Sep: BIO-ASTRONOMY OF SOLAR SYSTEMS, PHYS2051
*Jan: STELLAR PHYSICS, PHYS2052
*Mar: GALAXIES AND COSMOLOGY, PHYS2053
---
A calculus-based survey of the important modern paradigms in astronomy, including planetary system, stars, galaxies and cosmology. Provides the student with an introduction to quantitative explanations for astrophysical phenomena based on physical principles. 3 credit hours per quarter, counts toward Physics or Astronomy Minor** Pre-/co-requisites: PHYS 1120 (Gen.Phys.) or PHYS 1210 (Univ.Phys.)

Recommended books [check syllabus for course adoption specifics]:
Life in the Universe by Bennett et al. [Addison-Wesley]
Intro to Astrobiology by Gilmore & Sephton [Cambridge]
Intro Modern Astrophysics by Carroll & Ostlie [Addison-Wesley]
Intro Astronomy & Astrophysics by Zeilik [Saunders]
---
Link to Grading policies

Link to current class schedules at DU
---
Contact Prof. Stencel with questions. Visit the DU Observatories: *NEW* Student Astronomy Lab, Chamberlin and Mt.Evans.
Keywords: astron, astrophys, astronomy, astrophysics, class, course, observatory, infrared, telescopes, theory, ... Problem set hints
---
Have you read the latest ApJ or A&A?
---
Contact Prof. Stencel with questions.
---
Here's an interesting HST image of ProPlyDs in M42 -- what does it mean? Find out in this course!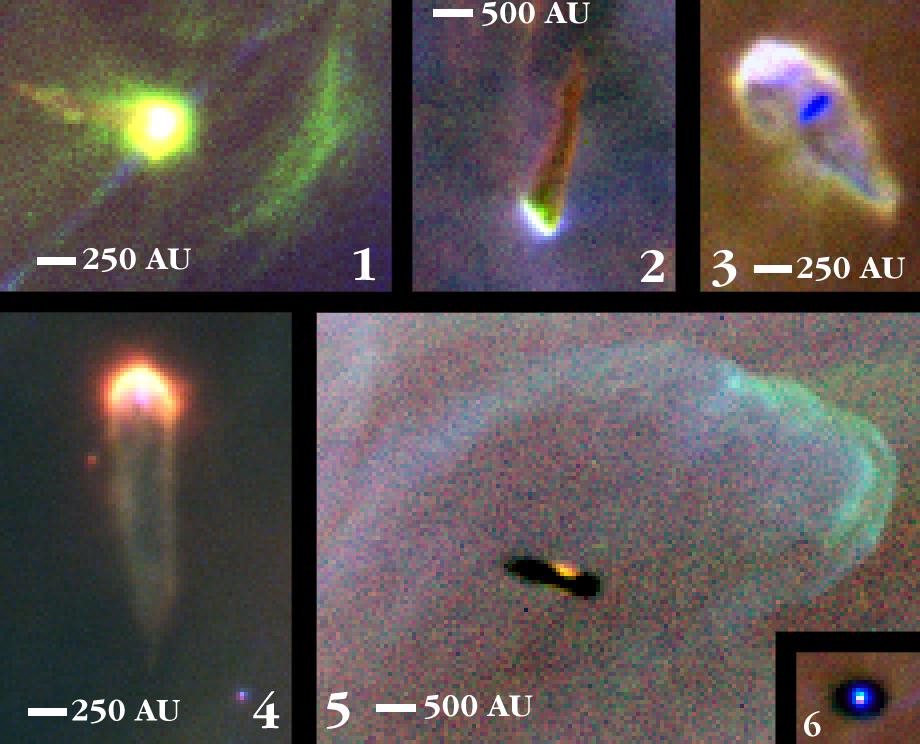 HOME