Lewis Monto Honolulu Fragment #2:
Nov - Dec, 1829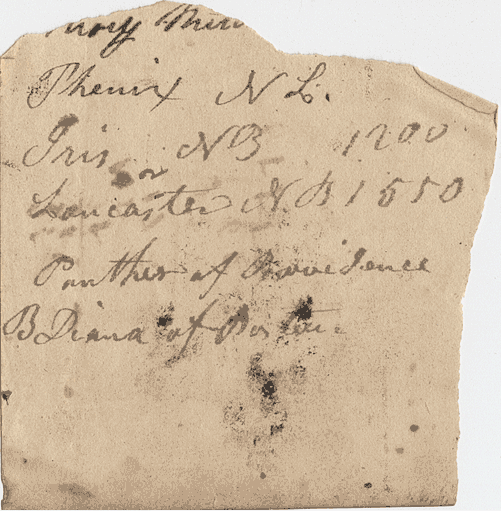 Lewis Monto Honolulu Fragment #2:
Nov - Dec, 1829.
[Click on image to view in larger format in a new window.]
Descriptive Text:
This fragment is likely a note written with the intention of later including the vessel traffic in the Journal or a fragment of a larger note indicating vessels in port at Honolulu during the Plough Boy's visit.
On November 2, 1829 the Plough Boy came to anchor at the Honolulu bar. On November 5 she was towed into the harbor where she anchored until December 4 when she "came out" with the Fame, Cyrus, and Herald. While the Plough Boy was "lying off and on" Oahu on the morning of December 5, three English ships came out -- Corsair, Elizabeth, and Cretan.
In Lewis Monto's Journal for November 4 he noted the arrival of the Phenix of New London and on November 8, that it had been brought into the harbor. On November 25/26, 1829, he noted "the Iris of [New] Bedford outside and the Lancaster lying off and on".
The Journal does not mention the Panther of Providence or the Brig Diana of Boston.
Below is a transcription of the fragment. Following the transcription are some notes on several of the vessels listed in Lewis' note.
A. Transcription:
[Vessel name unclear]
Phenix N[ew] L[ondon]
Iris N[ew] B[edford] 1200
Lancaster N[ew] B[edford] 1550
Panther of Providence
B[rig] Diana of Boston

B. Miscellaneous notes on vessels noted in fragment:
| | | |
| --- | --- | --- |
| Vessel | Home Port | Notes |
| Ph[o]enix | New London | Arrived Honolulu, Nov 1, 1829; James Smith, Master; 2,200 bbl. oil; left Honolulu Nov 13, 1829; According to Starbuck, the Phenix sailed from New London on October 7, 1827 and returned on May 1, 1830 with 2,653 bbl. sperm oil. |
| Iris | New Bedford | Arrived Nov 25, 1829; Constant Norton Jr., Master; 1200 bbl. oil; from Hilo. According to Starbuck, the Iris sailed from New Bedford on April 28, 1828 and returned on August 26, 1831 with 1,700 bbl. sperm oil. |
| Lancaster | New Bedford | Arrived Honolulu Nov 25, 1829; Hiram Weeks, Master; 1550 bbl. oil. According to Starbuck, the Lancaster sailed from New Bedford July 19, 1828 and returned April 22, 1831. |
| Panther | Providence | Arrived Nov 20, 1829; Bowers, Master; from Mexico; got foul of Offley. |
| Diana | Boston | Brig; Arrived Honolulu Nov 28, 1829 carrying gin; Left Honolulu Feb 15, 1830 for the island of Hawaii |