BLOrk
Boulder Laptop Orchestra + Electric Miles Davis
25-26 February 2011, ATLAS BlackBox, CU-Boulder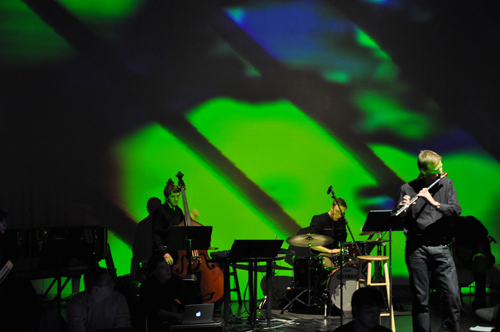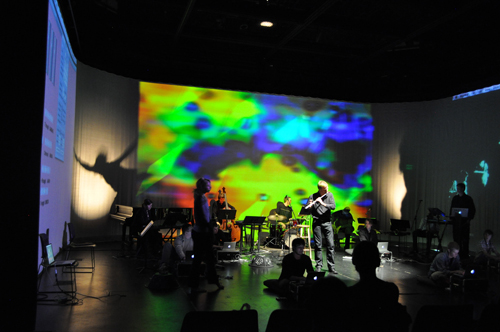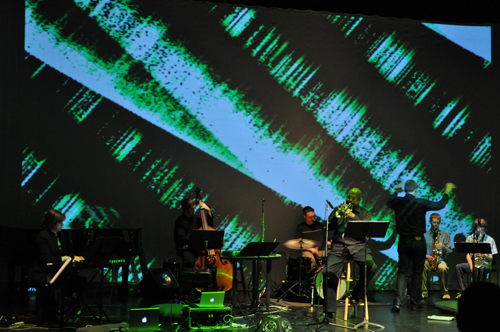 Live Visual Performance in support of Boulder Laptop Orchestra + jazz ensemble performing selections from the electronic jazz-rock fusion of Miles Davis.
FullDome Festival 2010
international fulldome celebration
4-8 May 2010, Zeiss-Planetarium Jena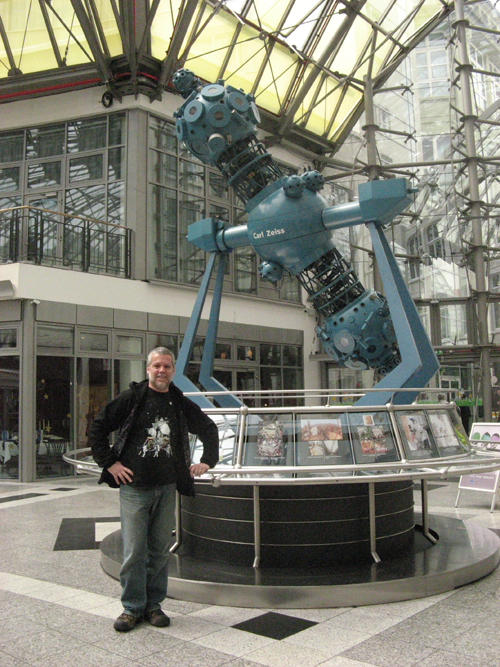 Zeiss machine at the Goethe Gallerie, Jena, Germany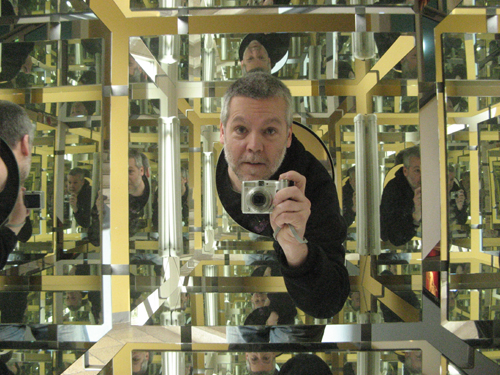 The Optische Museum, Jena, Germany
Sonic Acts XIII: The Poetics of Space
spatial explorations in art, science, music and technology
25-28 February 2010, Amsterdam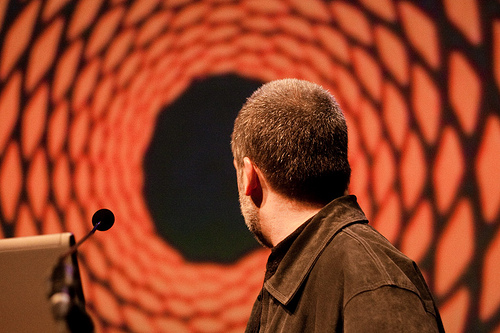 Cyborg Ritual and Sentic Technology in the Vortex Concerts
I presented the Vortex Concerts of Henry Jacobs and Jordan Belson, which took place at San Francisco's Morrison Planetarium between 1957 and 1959, as extensions of astronautic research and cybernetic space sciences. While considering the audiovisual content and new performance interfaces used by these artists, I am most interested in how this space age 'theater of the future' plays out a cosmological agenda. The unique spatial structure of the planetarium dome represents the near atmosphere and distant outer space, but it also mimics the observatory and even the cramped interiors of spacecraft. Through this vehicular mechanism, the Vortex Concerts promote a new understanding of the nexus of mind, mood, and body as these are integrated into highly technical cybernetic systems by means of bio-engineering and pharmaceutical regimes. These performances facilitate the emotional life and imaginative health of the cyborg-astronaut through ritual use of sense-altering technologies.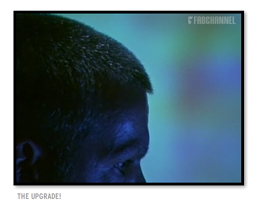 "Brink of Disaster!" + Q&A from Upgrade! Amsterdam
Complete coverage of the Upgrade! event held on June 14, 2006, at Melkweg. Hosted by Lucas Evers and Nat Muller. Live media stream and documentation produced by Fabchannel. "Disaster!" begins around 50 min. and is followed by Q&A session.
The "It's a Psych-Out!" music video blog was included in the "iDEAs 06: Works in Progress" exhibition coinciding with the 4th Annual Conference of the International Digital Media and Arts Association, San Diego, CA, November 9-11, 2006.
"Beginning of the Voyage" (the second episode of "It's a Psych-Out!") screened as part of the Expanded Cinema for the Digital Age exhibit at the College Art Association 94th Annual Conference, Boston, MA, February 23, 2006.


Society of the Spectacle
(A Digital Remix)
February 2004
"SOS" solo exhibit at the Boulder Museum of Contemporary Art, Boulder, CO, November 3, 2006-January 27 2007.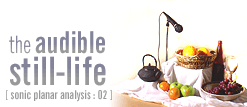 "30 02 2003" (photograph with field recording)
The Audible Still-Life, October 2003


"Machinery for Dreaming," The Palimpsest Project,
Version 1, September 2002
Galactus Zeit, "Cleaning le Corbusier's Alley"
City of the Future, July 2003

The pHarmanaut, "Butterflutt."
bufferFuct, March 2002

Galactus Zeit, "Happy Mille"
The pHarmanaut, "Coagulated Nuggets"
The McDonna Project, February 2002

Galactus Zeit,"New Leviathan Wormhole"
Parasites Rework Project, January 2002


Analog Kosmische Musik
The Communications of Tomorrow
February 2002

"a land-mark of cyberactive criticism."
-- Joseph Tabbi, editor Electronic Book Review
"LITMIXER: The Literary Remediator." Electronic Book Review, No. 12. 2001.
"Cyborg Ritual and Sentic Technology in the Vortex Concerts." Sonic Acts XIII – The Poetics of Space: Spatial Explorations in Art, Science, Music & Technology . Edited by Arie Altena & Sonic Acts. Amsterdam : Sonic Acts Press, Paradiso, 2010.
"The Social Pulse of Telharmonics: Functions of Networked Sound and Interactive Webcasting." Cybersounds: Essays on Virtual Music Culture. Ed. by Michael Ayers (Peter Lang Publishing 2006).
"Laptopia: The Spatial Poetics of Networked Laptop Performance." Contemporary Music Review, Volume 22, Part 4.
"Mediating (through) Imagination: Web-based Sound Art." Leonardo Electronic Almanac, Volume 12, No. 1. January 2004.
I've launched a new blog, Pharmakopolis, exploring my collection of psychedelic music, vintage sci-fi, weird electronics, and space music. The Technicians of Space blog relates to my book and lecture performance set at the intersection of sound, the cosmological imagination, technology, and consciousness.

Other blogs relate specifically to my course offerings in digital sound cultures, expanded cinema, and more.


A:D:A:P:T brings visiting scholars and artists to interact with DU undergraduates, graduates, and faculty thorugh lecture, special seminar sessions, workshops & demos, performances, and more.
Sonic Contents (editor)
music/sound/noise v.2
December 2006
Electronic Book Review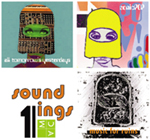 Soundings1: music from visualsoundings 2002-2003
A:D:A:P:T:CD:01 2003, distributed online by obliq
visualsoundingsshows that I curated for Denver's Museum of Contemporary Art. It showcases a diverse range of material from glitchy micro-textures and ambient techno to electrofunk, pseudo-britpop, and choral ensemble work.