In the News, On the Air, and Blogged:
Click to view news related to
--- Popular Culture --- Religion and Popular Culture --- Teens & New Media -- New Media & Religion
Popular Culture
Pop Ph.D.s , by Jeff Lewis, New York Times , a story about academics and new professors who research and teach on topics related to popular culture (1/8/06)
Religion and Popular Culture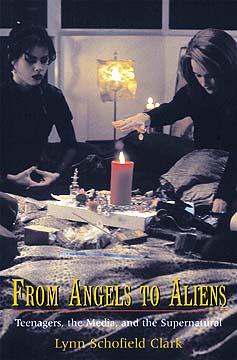 Television and Radio:
God Goes Hip , Segment on Anderson Cooper 360, CNN (Part of a week-long series on religion called, "Keeping the Faith." (6/15/04)
A Return to the Mystery: Religion, Fantasy, and Entertainment Speaking of Faith , Minnesota Public Radio and syndicated on other National Public Radio stations (7/29/04)
For Teens, Jesus is Way Cool , by Jonan Brady, ABC News.com (12/15/05)
Media Religion , on The Spirit of Things with Rachel Kohn , ABC Radio National (Australia) (7/31/05)
Pop Goes the Bible: The New Testament Meets Cosmo, as Pop Culture and Religion Intersect , ABC News.com (8/26/03)
Teens' Fascination with the Supernatural , Dick Staub Show , syndicated radio, audio interview available (6/3/03)
Spiritual Themes in The Matrix Reloaded Religion & Ethics Newsweekly, PBS (5/25/03)
Newspapers and Newsmagazines:
Sights, Shivers, and Signs: Blazers' Encounters with the Supernatural are both Welcome and Chilling , by Sally Lanar, Silver Chips Online (11/10/05)
In Praise of the Faith Market , by Barney Zwartz, The Age (Australia) (7/30/05)
Colleges Use Popular Culture to Teach Religion, Philosophy , Michele Melendez, Newhouse News Service (3/16/05)
Jewish is Cool, Products Declare , Orlando Sentinel (3/4/05)
TBN Rolls Out Virtual Tour of Jesus' Time , Miami Herald (5/3/05)
Teen's Tees Send Religious Message, The Post-Standard (8/21/04)
New Angles on Angels , ReligionLink (7/12/04)
Christ, Pop Icon , Contra Costa Times (4/11/04)
Girls Find Christianity Can be Cool , Albany Times-Union (2/15/04)
God on TV, TV Guide (cover story on Joan of Arcadia )
Angels in America , New Humanist (1/5/04)
Investigating Teens, Pop Culture, and Spirituality , Youthworker Journal (Nov/Dec. 2003)
Your Kid or Mine? by Lynn Schofield Clark, Christian Century Magazine (10/18/2003)
Media as windows on the divine: Teens explore their faith through popular culture , Pittsburgh Post-Gazette (10/14/03)
Tuning in to God , St. Louis Post-Dispatch (10/11/03) (reprinted in Ft. Wayne News-Sentinel , 10/21/03)
Young women lend God a hand:Trio of shows position female characters as aides of the Almighty , Dallas Morning News (9/28/03) (reprinted in Ventura County Star , 10/11/03)
Religion and Reality TV: Injecting Reality into Sometimes Crass TV , North Jersey Herald News (9/4/03)
Teens, the Internet, and Faith: Let's Talk , ReligionLink (8/4/03)
Pop Spirituality: Author Says Teens Relate to Religion through Popular Culture, Dayton Daily News (7/26/03)
From Angels to Aliens, Colorado Daily (7/20/03)
The New Age of Rave: They Chant, They Dance, They Do Downward Dog. No Drugs Allowed. These Kids are High on Life. Newsweek (7/7/03)
Are Evangelicals Fueling Teen Fascination with the Powers of Darkness? Christianity Today (7/7/03)
Evangelicalism's Dark Side and Popular Culture , Christianity Today (7/7/03)
Author Lynn Schofield (Clark) Looks at Teens, Potter, and Media Culture, The Leaky Cauldron (7/7/03)
Matrix Reloaded Entwines Strands from Many Faiths, Chicago Tribune (7/3/03)
The Matrix Reloaded and the Edgar Cayce Work , Open Door (7/3/03)
Liberation's Children: Parents and Kids in a Postmodern Age Washington Post Book World (reprinted in the Houston Chronicle ) (6/29/03)
Reap Show: Snatching Souls All in a Day's Work in Showtime's Dead Like Me , San Bernadino Press-Telegram (6/23/03)
The Young and the Eerie: Teen Interest in Supernatural Can Promote Family Dialogue , Boulder Daily Camera (6/24/03)
A Scholarly Look at Harry Potter, Teens, and Religion , Harry Potter Automatic News Aggregator (6/11/03)
Teen Interest in Supernatural Examined by CU-Boulder Media Expert , Potterwatch.com (6/11/03)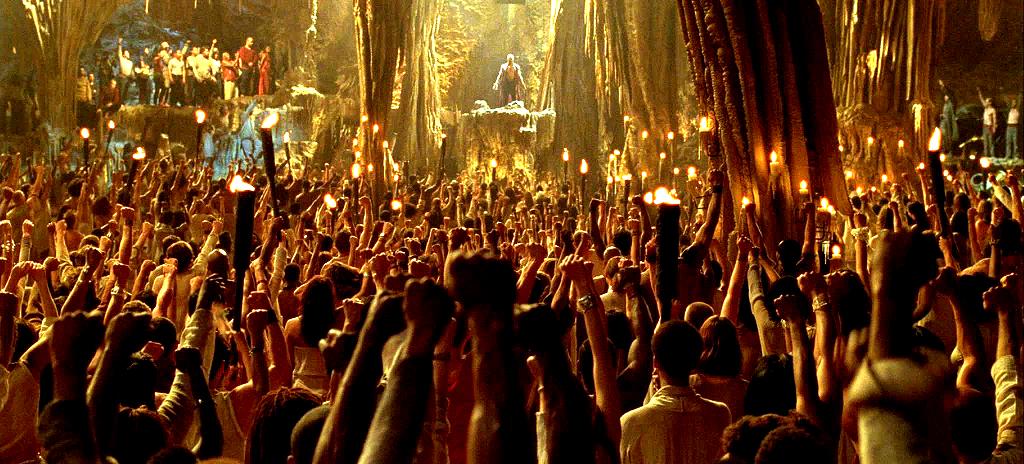 Philosophy in The Matrix: Whoa, Indeed, Chicago Daily Herald (5/29/03)
" 'Matrix' sequel to cash in on cultural connection" in Dallas Morning News (5/15/03)
" Matrix Metaphysics: Sci Fi Thriller Blends Strands from Many Faiths," Atlanta Journal-Constitution (5/31/03) (Also in Arizona Republic (6/11/03)
Teen culture is topic at Presbyterian Media Mission Luncheon GA News (5/25/03)
Mayberry Bible , Religion News Service (8/12/98)
On the radio:
Truth Talk on WTRU (syndicated, Southeastern U.S.)
Armed Forces Network (International)
The Bob Dutko Show (Detroit, MI)
Rhema Radio (New Zealand)
Blog mentions:
OMG It's a Multimedia Generation ReligionLink.org (10/24/05)
Iconography as Visible Religion on BookRags.com
Determination and Faith: Raymond Williams, Paul Tillich, and Religious Identity on khealy.com(8/21/05)
Barry reviews Lynn Schofield Clark's From Angels to Aliens on Media Awareness Network, media-awareness.ca (Spring 2005)
Preaching Morals via Harry Potter, Homer Simpson and Andy Griffith , BookZonepro.com (3/14/05)
Review of From Angels to Aliens on Buffalobroadcasting.com
"A very thoughtful and intelligent interview article with Lynn Schofield Clark on the popularity of myths examining evilness," LoafingCactus.com (8/1/03)
Are evangelicals fueling teen fascination with the powers of darkness?, Mikelpickens.blogspot.com (7/11/03)
Who knew that Harry Potter, the X-Files and Buffy the Vampire Slayer would be changing the spiritual culture of teens in America?, Signs of the Times (July 2003)
From Agnosticism to Zen: Where Do We Stand with Religion?, Youthography (5/17/04)
Other citations:
Church Values and Popular Culture , by Carl Brockenheim, Porvoo Theological Conference (9/27/04)
The Invisible Internet , by Oliver Kroger, Heidelberg Journal of Religions on the Internet 1:1(2005).
Teens & the New Media @ Home:
Prof's Firing Stirs Blog Debate , by Jennifer Brown, Denver Post (1/8/06)
Tracking the Blogs, Rocky Mountain News (11/1/04)
Turning an "F" Ear: The Worst of All Words is Losing its Shock Value , Albany Times-Union (3/14/04)
The Big One: Once Taboo, the Ultimate Swear is Everywhere: And Losing its Power to Shock, by Don Aucoin, Boston Globe (2/12/04)
Star Wars Kid becomes Internet Star , CBS New York , USA Today , CNN (8/21/03) Associated Press story also picked up by the Houston Chronicle, Kansas City Star, Miami Herald, Salt Lake Tribune, Mercury News (San Fran Bay area), Las Vegas Sun, Seattle Post-Intelligencer, Orlando Sentinel, Tacoma News, Boulder Daily Camera , Austin American-Statesman, San Diego Union-Tribune, Sun-Sentinel (FL), Tallahassee Democrat, Dayton Daily News, Charlotte Observer, Journal-Sentinel (Milwaukee, WI), Lawrence (KS) Journal-World, Concord (NH) Monitor, Arizona Republic, The State (Columbia, SC), News-Observer (Raleigh, NC), Knoxville News Sentinel, Monterey Herald, Modesto (CA) Bee, Aberdeen (SD) Herald, Augusta (ME) Chronicle, News-Observer (Chapel Hill, NC), Coloradan (Ft. Collins), Casper (WY) Sta-Tribune, Burlington (VT) Free Press, Ventura County (CA) Star, The Herald (Clover, SC), Courttv.com, WCBS News radio, and in the UK, The Guardian.
Blog related to this story: NetEnigma (8/22/03)
Peer-to-peer file sharing networks news story on KUSA-TV Ch. 9 in Denver (10/15/03)
'Home Alone' isn't the Way to Go with Children and TV , Chicago Tribune (11/26/00)
New Media & Religion:
Web and a Prayer: For Nuns Community of 13, Hosts Popular Site , Pittsburgh Post-Gazette (2/9/05)
Faith Based Bloggers Tackle the Election, Political Issues , Religion News Service (9/28/04)
Christian Gamers get Holy Alternative , Miami Herald (9/24/04)
Upstate Churches Reaching Out to Singles , Greenville (S.C.) News (8/22/04)
Religious Americans Look to the Net for Answers, Chicago Tribune (5/25/04)
Faithful Find Web Useful for Spiritual Activities , Business Journal (4/9/04)
God in the Console , MSNBC.com (8/19/03)