News from Mt.Evans Womble Observatory
Highest Operating Observatory in the West*,
at 14,148 ft elevation!
NGS Site AC: Longitude 105d38m26.0s West, Latitude 39d35m12.2s North, elev. 4326 m, g = 979,000.450 mgal, using obscode 707
Land use permit renewed 2016 - program rejuvenation in progress.
Denver University, Department of Physics and Astronomy
Denver, Colorado 80208 USA
NEWS...
Regional Weather...
Links...
Webcam!...
GPSwaterVapor...
Mtn.Cams
FAQs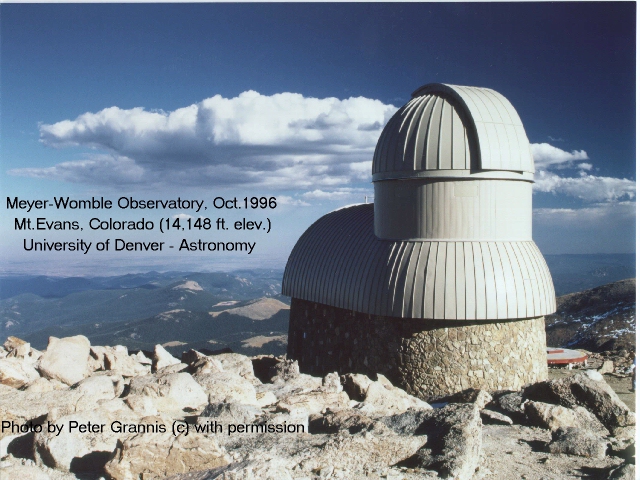 THE MEYER-WOMBLE OBSERVATORY ATOP MT.EVANS, COLORADO
Access...
Classes...
Telescope...
Science...
NewPix!...
Celestial Events.
What's New? (links)
Toward the next generation... (re-development)
Postscript, 2018: begin de-commissioning
Summer 2012 Disaster Recovery Blog
GPS Water Vapor monitor installed, 2010, thanks NOAA
epsilon Aurigae eclipse campaign 2009-2011
Next SUMMER CLASS PHYS2063 tent. AUGUST 2011
UPGRADES PROPOSAL, 2007
Link to PDF report of summer 2007 J&H photometry
Link to PDF report on summer 2005 observations
WEBCAM from Mt.Evans!
17th MAGNITUDE AT VIDEO FRAME RATES!
MICROWAVE LINK ESTABLISHED
RENEWABLE ENERGY TRUST GRANT/PHOTOVOLTAIC POWER
---
Astronomy at the University of Denver has been active since 1880, in the pursuit of research, teaching and community outreach. For more information concerning DU Observatories, astronomy classes and research, visit my HOME PAGE or EMAIL: rstencel @ du.edu -- Prof. Stencel, Director, University of Denver Observatories, Denver University, Denver CO 80208 USA.

This website sponsored in part by the William Marlar Foundation.


The summer of 1996 witnessed completion of the new 2,100 square foot Meyer- Womble Observatory, atop Mt.Evans, superceding the previous telescope and, until late 2000, the highest observatory on earth. The aerodynamically shaped building includes the new Meyer Binocular telescope, a dual 0.7 meter R-C system, designed with seeing accomodation for thermal and airflow effects, plus the use of adaptive optics. First light was achieved 16 August 1997, with views of the moon, Jupiter, M13, Vega and M57. How sweet it is!
---
Jupiter and Saturn imaged 10 Sept. 1997 with AP7 CCD at MWO.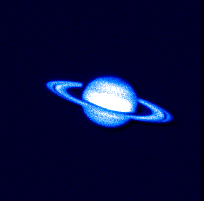 Other student acquired images
---
The vision for the completed observatory involves addition of a 4 meter class optical-IR optimized telescope.

---

AND HERE'S THE REGIONAL WEATHER AND OBS*CAM : intranet 130.253.144.4 & 130.253.144.24 - requires VPN to access.
<!img src="sat_ir_enh_sw.gif" height="300" width="350">

---

Webcam... More mtn wx cam... Regional VIS satellite... Regional IR satellite... Water Vapor map...
Surface map & more ... Jet stream (500mb) ... Forecasts... Tundracam...

---

Contact Prof. Stencel with questions. Visit the DU Observatories: Chamberlin and Mt.Evans.
Keywords: astron, astrophys, astronomy, astrophysics, observatory, infrared ...
Aerial photo by John Kosters, looking west, showing the Mt.Evans summit with the observatory buildings near the end of the pavement. Background mountains include Bierstadt, Grays and Torreys and the Colorado continental divide further west.

---


Mt.Evans summit and observatory as seen from Mt.Bierstadt to the west, photo by Alexa Hart, 7/4/07. Additional aerial views are available on mapquest.com and Google, etc. Starting address: 13264 State Highway 103, Idaho Springs CO 80452.

---

and for reference, some average temperature variations (deg.F):
Footnote: website may be frozen 7/1/08 due to computer security concerns. For updates see Alt.homepage.